12 L Cast Iron Cauldron Dutch Oven Pot with Lid Frying Pan Camping Kazan Pilaf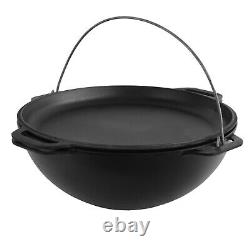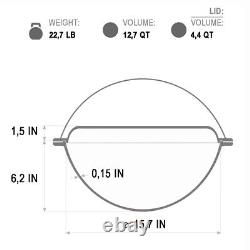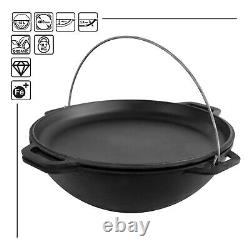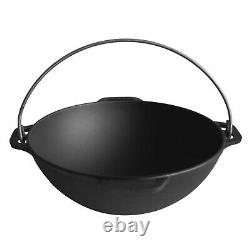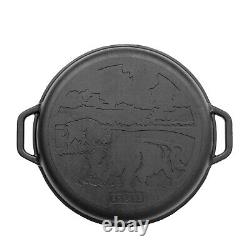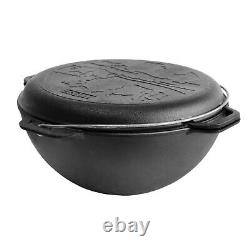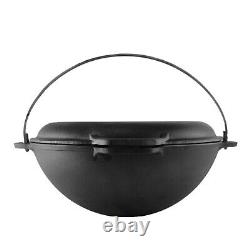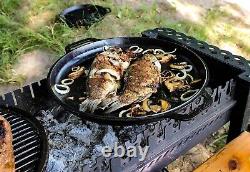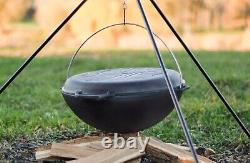 12 L Cast Iron Cauldron BRIZOLL Dutch Oven Pot with Lid Frying Pan Camping Kazan Pilaf Lagman????? Asian cast-iron cauldron with a capacity of 12 liters, comes with a bow and a cast-iron lid-pan. Designed for cooking on a fire or barbecue, requiring stewing, languishing and cooking in its own juice. Thick walls and a hemispherical bottom accumulate heat over the entire surface of the cauldron, and contribute to uniform cooking. Meat, pilaf and other dishes cooked in a cast iron cauldron are especially tasty, juicy and have an incredible rich aroma. Recently, universal dishes have become popular.
The set comes with an authentic, improved and practical frying pan lid, which will become an indispensable and original addition to your cauldron. Cast-iron cauldron with a lid-pan resistant to damage, an indispensable assistant in the campaign, in the country and outdoor recreation. With proper care, cast iron cookware will serve you for a very long time!
Increased corrosion resistance to organic acids, which is achieved by special heat treatment by roasting the finished products, with their immersion in oil. Increased heat resistance of dishes, which also leads to increased resistance to oxidation and greater resistance to change in volume at high temperatures.
Increased scale resistance, which minimizes the possibility of destruction products getting into the human body when cooking food in this dish. Higher wear resistance and hardness. The material of the cauldron and lid grill is cast iron. Capacity 405.76 oz / 12.
Prior the first use of cast-iron cookware, please clean it out of technical oil, which protects the cookware from moisture and further rusting. We're thrilled to share that our products can now reach you wherever you are! To provide you with accurate costs, kindly reach out to us before placing your order.
Connecting with us beforehand ensures transparency and a seamless shopping experience.